How To Rent A Luxury Car On Rent From Us For Your Journey In Mumbai And Navi Mumbai
Let's Being Its Quite Easy The Process Is Very Simple
Once  You Get In Touch With Us We Will Update You About Our Inventory And The Stock Of Cars We Hold In The Luxury Car Rental Mumbai And Navi Mumbai Category You To Rent With Our Chauffeur Fuel Included including the Cost Of The Rental
We Make It Our Aim To Make Sure Your Rental Experience Is A Pleasant One For Which We Provide All The Cars With Fresh Bisleri Water Bottles And Tissue Paper Along With Car Perfume To Avoid Any Odor Issue
All Cars Are Cleaned And Inspected Before Any Rental Duty For Make Sure Every Journey Is The Same Standard Across Our Entire Fleet Options.
After You Confirm Which Car You Wish To Choice From Our Stock Of Luxury Cars On Rent In Mumbai And Navi Mumbai.
We Take All Your Details Like the Duration Of Your Order And The Total Km You Would Be Using For The Journey, Timing Of Reporting Of the Driver, And Location For The Same.
All You Need To Do In The Process Is Inform The Car You Wish To Book And Pay A Small Token Advance To Book The Car For Your Date.
Car Rental Companies have a lot of conditions as it depends if the car rental agency is giving the car rent for self-drive then they need a security deposit, your documents for security, and a credit card in your name (in the name of the driver of the car)
If the Car is being rented with a driver the companies a token amount of the total rent as advance so the company can block the car for your date and usually to build trust in the in person the company may ask for the rental payment at the end of the rental period.
In case of renting a car with a driver a very important point that people forget is that the car rental time and kms for which the user pays to start from the garage location where the car will be coming from which adds to the total cost of the rental.
Some luxury car rental brands don't allow cigarettes in the car because it can create a issue of odor which might not be ok for the next customer who sits in the car.
For Wedding Car Rental Mumbai Options We Provide A Variety Of Luxury Cars On Rent With A Variety Of Decoration Options To Choice From For Which Our Professional Decorators Come To The Garage And Decorate The Cars As Per Your Needs In Our Decoration Option Flower Colours.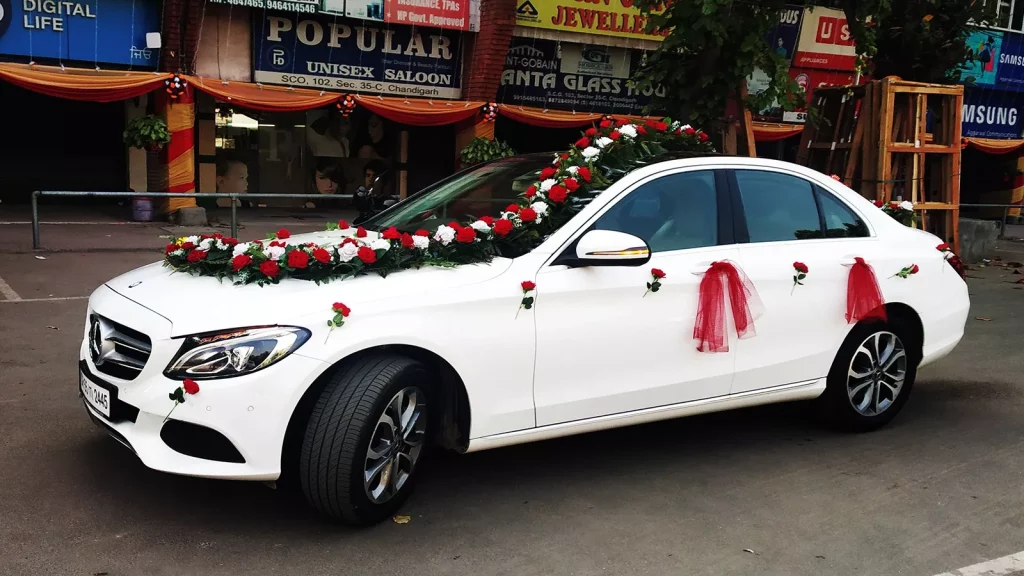 You may also love to read –